When did you join HRR and what prompted you to join?
2018. Initially I started attending Tuesday early morning track sessions to focus on speed work and then started to join more social runs
When did you start running?
I started training for my first marathon and became a frequent runner at the start of 2016, having done shorter races previously and running now and then. Since then running has become part of my (almost) daily routine and I can't imagine not running.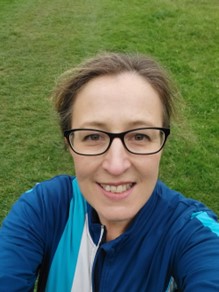 When did you join HRR and what prompted you to join?
Joining HRR club came about after I was given the opportunity to run the London Marathon for a charity in 2017. I had already completed my first marathon in Bournemouth the year before and I was not sure I could face training on my own all over again – and I didn't want to make the same mistakes!
When did you start running?
Although I had been a reasonably good cross-country runner at school, I had only run on a treadmill in the gym and around a track a few times in my twenties since then. By the time I had had my third child, I had not really done much running outside for many years. Mistakenly, I believed that I must still be relatively fit as I walked a lot and cycled a few miles every week. When I tried to run to the end of my road … and I couldn't, I realised I needed to start from scratch. I ended up running with a blind friend who was a keen runner and an excellent coach!
I enjoyed being outside in all weathers, with a goal race to aim for. My first event was a charity fun run, following the Blenheim Horse Trials course. I found the distance manageable but the height of the jumps absolutely terrifying! After that experience I set my sights on a half marathon, completing my first in Oxford in just over 2 hours. I felt so proud of myself! I knew I wanted to get fitter and run further so I signed up for the Bournemouth marathon and did all of the training on my own. I realise now that it was not necessary to run 20 miles seven times before the event and the taper meant recovering and getting ready for the race!
What inspired you to become a coach/leader?
I was inspired to become a Leader in Running Fitness by the people I trained with and the coaches who helped me to make so much progress over the years. I offered to lead long runs on Sundays and enjoyed sharing the experience of training with others; we kept each other going during the tough times, laughed about all the mud and hills I seemed to find on my routes and fessed up about our taper 'madness' moments!
What group coaching/leading do you do at HRR?
I am part of the Tuesday evening speed sessions coaching team, working alongside Amy. I work with the 46-50 minutes 10k pace group as well as the slower and less experienced runners. I do coach some of our speedier athletes when we do hill sessions in the Winter.
What is your favourite training session?
My favourite training sessions always involve hills, especially when we are able to train in the parks in Oxford. I believe running hills has been a critical part of my running journey, especially in achieving a 'Good For Age' time at the Manchester Marathon in 2018.
What is your favourite race or running route?
My favourite local running route includes the hills around Botley, Cumnor Hill and Boars Hill. A summer's evening run up to Woodeaton and Elsfield is enjoyable, too.
What has been your best coaching/leading moment?
My best coaching moment is difficult to choose as I enjoy most of my sessions with the athletes. It is great to see them growing in confidence and making progress. I like hearing them being positive about themselves – and I won't let them get away with saying anything about being 'Too slow!'.
Anything else you'd like to add?
Nowadays, I run for wellness, taking pleasure in being able to run at a comfortable pace so that I can take notice of my surroundings and chat with friends at the same time.