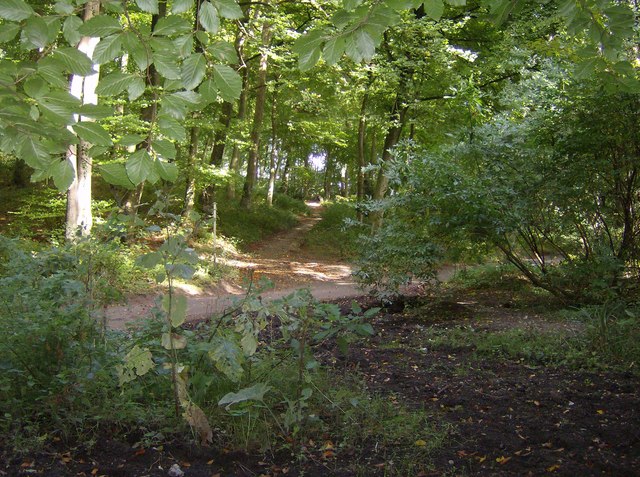 Stoke Row is in the Chilterns about half way between Goring and Henley. Although there has been a 10K at Stoke Row for the last two years, this was the first time it was licensed by UKA. The venue was the Cherry Tree Inn, and the race was the first activity of the day: other things were happening until 8pm.
The route was shaped like a letter P with Nuffield at the furthest point away as shown on this map.
We started at the end of the stem of the P. The stem is about 0.75K long and it took us away from the village and down along a rough footpath through some woods. We dropped about 65m in that 0.75K. The photo shows part of the junction at the bottom of the hill.
The next 3K gently climbed 90m along a mix of single track footpaths, wide rough tracks and tarmac lanes. We then ran along a narrow path that went diagonally across a field of crops. Soon afterwards, we did just 0.3K of the Ridgeway, the bit from the end of Grims Ditch to Nuffield Church. There was a bit more tarmac at the halfway point when we ran through Nuffield.
But after that it was back to the mix of rutted tracks and footpaths occasionally single width. Some of them were through enormous woods. Gradually, we lost all the height we had gained to finish the circle of the P arriving back at the junction shown in the photo. There was then just the 0.75K climb back to the finish. A tough way to end!
About 60% of the 10K were on public rights of way that were new to me. I've recently started a project to run those in Oxfordshire. So I added these to my oxonpaths project.
The race was timed with chips. The route was well signed and bunted and there were plenty of enthusiastic and diligent marshalls. For me, the only bad points were there being no K markers (apart from the 5K) and the bar not yet open when we got back!
Very enjoyable. It reminded me of the Frieth Hilly 10K and the Rugged Radnage 10K (both in November), two other races to do if you enjoy running in the Chilterns.
The above photo was taken by Graham Horn. It is copyright Graham Horn and released with a Creative Commons licence.